Clean Hand Dryer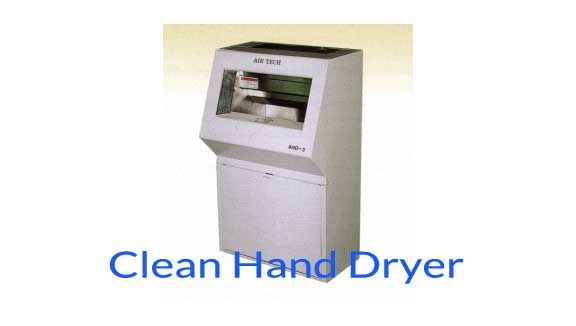 AIRTECH's Clean Hand Dryer uses HEPA filtered air to ensure fast thorough drying without contact with foreign media. During the drying cycle the hands are bathed in UV light to kill germs. The AHD-3 also eliminates waste disposal and/or laundering fees associated with towel drying.
The AHD-3 helps to eliminate contamination problems by reducing the number of airborne particles and germs that can deposit on sensitive materials in cleanrooms and bio-cleanrooms.
The AHD-3 utilizes a photo sensor to allow for hands free operation and can be mounted on a wall or bench top. The stainless steel / cold rolled steel construction coupled with its compact design makes the AHD-3 ideal for even the most critical cleanroom applications.
Specifications
Cleanliness
Class 100
Dimensions
380 W x630 H x275 D
Air Velocity
100m/sec
UV Lamp
6W  X 1PC
Power
1φ, 100V ,50 / 60 Hz
Drying Time
10 sec.
Weight
30kg